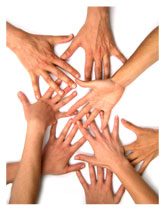 The Shingwauk Education Trust - Community Healing Strategy Project began in 2003 and is supported by funding through the Aboriginal Healing Foundation.
In 2007, a three year agreement was signed with the Aboriginal Healing Foundation (AHF) providing for "... direct services to Former Students Survivors, their descendants and community members in the areas of direct therapy, counseling utilizing both traditional and western healing methods..." Contribution Agreement Attachment A-2 Project Work plan.
A total of $1,056,753.81 has been committed over the three year period 2007-2010 and the Project is to provide these services to the 5 participating First Nations: Sagamok Anishinabek, Serpent River First Nation, Thessalon First Nation, Garden River First Nation, and the three communities of Batchewana First Nation.
.